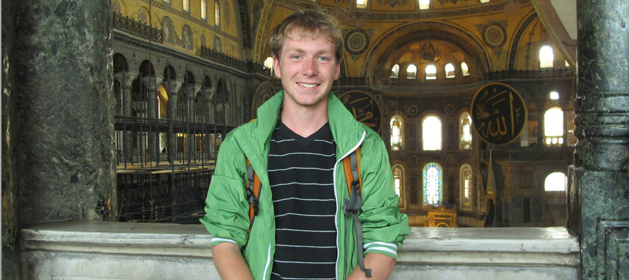 Our success is owed to the driven, creative college students who are the bedrock of Tesseract's team.  The bittersweet result is that after months of chasing deadlines together and pushing the limits of what we can do, these students graduate and go forge a new path in the world. Bentonville native Will Loder, 22, graduated this summer after completing a double major in Classical Studies and History. I got the chance to sit down with him in the studio on his last day with Tesseract. Will first heard about the lab in 2013 from another student in a Latin class taught by our director, Dr. David Fredrick. "I wanted to go ahead and try it out and see what it was like. I really wanted to have another class with Dave, he's a great teacher," Will said. "I went for it, and it was a really interesting class. It was probably one of the hardest classes I've ever taken in my life, not only at the University level." In previous years, students created games based around information from specific texts, such as
The Odyssey
or, in Will's case, "
Gotham: A History of the City of New York
" by E. Burrows and M Wallace, in addition to general course texts like "
The Art of Game Design: A Book of Lenses
" by Jesse Schell. "I've always had to interface with computers, but not from a coding or 3D modeling standpoint or anything like that," Will said. Game design students get to touch on all the major disciplines when designing their games: level design, coding, 3D modeling, texturing and lighting. "I really enjoyed the kind of conceptual design part right from the get go. Coding was a little bit tricky," Will said, "but I was able to do a couple neat things. And then 3D art, I was a little bit better at that." After seeing his work over the course of the semester, Dr. Fredrick offered Will an opportunity to interview for Tesseract's development team as an artist. Will explained that he first worked on the 10
th
Street Studio project, designing art assets but also working closely with another student to shape the narrative design of the project. "Me and another guy set out all of the 'This is the script, these are the goals, and this is what we want to do, and these are all the different scenarios we could have and that stuff," he explained. He also contributed a great deal of research to both 10
th
Street Studio and Saeculum. With the 10
th
Street Studio, Will had to pore over books about architecture and the building's history, and ask a lot of questions to recreate the studio as faithfully as possible. "We had to do a lot of art history kind of research. Why was this painting significant? What are the themes present? How do we represent that in the interactive visualization?" Will explained. "If we're going to recreate the world, how do we get that feeling? How do we communicate that through the 3D space?"
For Saeculum, Will has worked on narrative design on a very granular level, with individual scene pacing.  He has continued to do a great deal of research when shaping portions of the level and interactions, including where objects would have been placed in Roman households, the types of people that should be found in the various areas of the city and how to best communicate the ideals of the buildings and environments to the players. "Designing it in a sense that the player knows where to go intuitively is really the bread and butter," Will said.
The invasion of Carthago Nova and battle of Zama, both led by Scipio Africanus, were particularly exciting for Will to work on. "It was really cool because I got to read about the logistics of how we think the battle actually took place, and then implementing that within the system we had." In Carthago Nova, there's a lagoon in the city that drains each night, and the player comes with soldiers and a ladder to begin taking the city.
"The Battle of Zama is the major victory over Hannibal in North Africa. Hopefully, we get to keep the design right now. I'd like it if we could take down a war elephant in Zama," Will said with a laugh, catching some bemused looks from the rest of the development team. In all the battles, he's been working with the team to create a large-scale feel with small-scale encounters. A secondary project Will has also had an important role in is "play testing" and measuring the effectiveness of the levels at teaching and meeting the learning goals set out for the students. "It's changed quite a bit, and we have a lot of referent material already, but there's always more we could be doing." After a year and a half of studying and working in the lab, Will is off on his next adventure:  He's spending a year in Daejeon, South Korea working at a community welfare center through the Presbyterian Church's Young Adult Volunteer Group. A creative and supportive atmosphere is one of the things Will says he will miss most about the lab. "I think there's a creative openness here that's just reinforced by the personalities and the support of each individual's personality and what they can give as input." Will said. "That's really what drives me to this place and one of the things I'm going to miss quite a bit." Will said he also hopes to bring some of that culture with him in his adventures. "Being here has really prepared me for a lot of things, with working in a team," Will said. All the work that happens in Tesseract is dependent on teamwork – whether it's the students sharing their learning in the Game Design course or meeting their goals on the development team. As Will put it, it's about "finding ways to work with people to bring out the best and most creative output possible. Learning how to stay positive and enjoy your work is really something I'm going to take with me for the rest of my life." "Will really grew into his primary role as a level designer, and took the lead in organizing play-testing and quality control," says Studio Director David Fredrick. "We'll really miss him, but these are exactly the outcomes we want—students with a positive experience in the lab taking those technical and social skills with them out into the wider world." After Will finishes his year in South Korea, he may apply to grad school to pursue Classical Studies.